Availability: Tuesday & Friday
Availability time: 10.00 – 15.00
Trip Total Time: 5 Hours
Lunch: Included
Boat: Margarita Sunset
Extra Activity: Swimming (we advise you to bring a swimsuit)
Beautiful Bays Boat Tour
In this Nature lover's cruise, we'll set sail from Funchal towards Machico and afterwards to Baía d'Abra, a marvellous wild bay, and Natural Reserve, where you can swim, dive and relax. A delicious hot meal will be served on board.
Price Per Person: 55€ (Children between 5 to 12 years old pay half price; Babies up to 4 years old don't pay a ticket)
Availability: Tuesday & Friday
Availability time: 10.00 – 15.00
Trip Total Time: 5 Hours
Lunch: Included
Extra Activity: Swimming (we advise you to bring a swimsuit)
Boat: Margarita Sunset
Note: According to the weather conditions, the boat will sail EAST (Baía d'Abra) or WEST (Cabo Girão and Ponta do Sol).
Where do I need to go when the boat tour starts?
Boarding Address: Marina Nova do Funchal, Cais nº8.
Before boarding, you need to stop by our kiosk to check in and collect your Boarding Pass. We advise you to arrive at least 30 minutes before the scheduled Boat Tour starts.
What you can find on this boat tour on the West Coast of Madeira Island?
Embark on an unforgettable maritime voyage along the mesmerizing west coast of Madeira, where the beauty unfolds between Funchal, Cabo Girão, and Ponta do Sol. As you sail these azure waters, a spectacle of natural wonders unveils before your eyes.
From the tranquil waters of Funchal, your journey leads westward, revealing the magnificent sight of Cabo Girão, one of Europe's highest sea cliffs. Towering above the ocean, its imposing presence commands admiration as you sail closer, marvelling at its rugged splendour from the sea.
Continuing along the coastline, the picturesque villages come into view, nestled against the verdant cliffs. As the boat glides gracefully, you will witness the charm of Ponta do Sol, its quaint houses and beaches welcoming you with their coastal allure.
Throughout your nautical exploration, the symphony of lush green landscapes, precipitous cliffs, and the ever-present ocean serenade your senses. The sea breeze gently caresses your face as you soak in the breathtaking vistas that unfold before you.
Experience the west coast of Madeira from the sea, where nature's grandeur reveals itself in every wave, every rocky outcrop, and every glimpse of coastal life. Let the allure of this maritime adventure leave an indelible mark on your soul as you witness the beauty of Madeira's western shores.
What you can find on this boat tour on the East Coast of Madeira Island?
Embark on an extraordinary nautical expedition along the captivating eastern coast of Madeira, tracing the breathtaking shoreline from Funchal to the picturesque Baía d'Abra. As you set sail upon these cerulean waters, prepare to be enthralled by the awe-inspiring beauty that unfolds before your eyes.
Commencing your maritime voyage from Funchal, the vibrant capital city, you'll navigate eastward, passing by the renowned Garajau. Admire the striking cliffs and the marine reserve's crystal-clear waters, which offer a glimpse into the underwater wonders of Madeira.
Continuing your seafaring odyssey, you'll encounter the charming coastal towns of Santa Cruz and Machico. Marvel at their quaint charm and immerse yourself in their inviting atmosphere, where a harmonious blend of history and natural beauty awaits.
As you sail farther east, the picturesque village of Caniçal emerges, offering a glimpse into the island's rich maritime heritage. Delight in the village's rustic charm and enjoy the warm hospitality of the locals.
Finally, your journey culminates at the captivating Ponta de São Lourenço. This rugged peninsula showcases the dramatic meeting of land and sea, with towering cliffs, arid landscapes, and breathtaking vistas that provide an invigorating finale to your coastal exploration.
Throughout your seafaring expedition, the ever-changing vistas of dramatic cliffs, hidden coves, and the vast expanse of the ocean will leave you spellbound. Feel the caress of the gentle sea breeze upon your countenance as you bear witness to the untouched magnificence of Madeira's eastern shores.
Embark on an unrivalled exploration of Madeira's eastern coastline, charting your course from Funchal to the captivating Baía d'Abra, while encountering the wonders of Garajau, Santa Cruz, Machico, Caniçal, and Ponta de São Lourenço along the way. Let the magic of the open sea guide you on this extraordinary maritime quest, where nature's wonders unfold with every passing wave.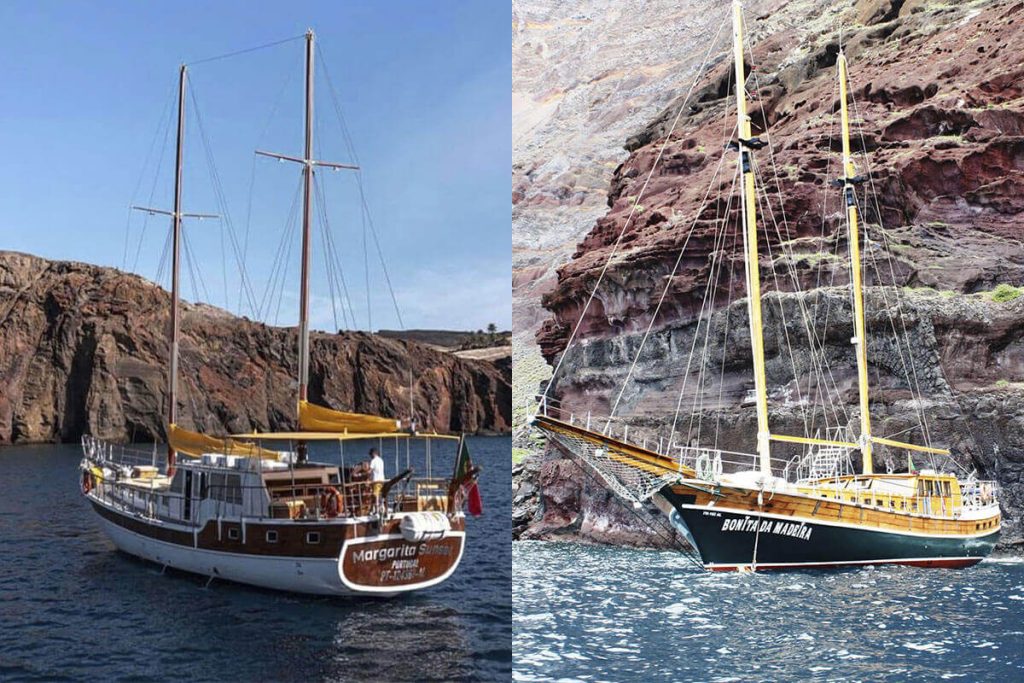 Our Boats
Genuine Wooden Gulet, with an experienced crew.
Bonita da Madeira and Margarita Sunset, genuine wooden schooners, 23 meters long and 99 tons, are equipped by a professional and experienced crew, allowing you to enjoy the crystal blue ocean, beautiful bays and marvellous coast of Madeira and Desertas in comfort and maximum safety.
You might also be interested in...
Boat Tours, Whale & Dolphin Watching and more
Bonita da Madeira
Experience The Madeira Island Ocean Like Never Before
Come discover and enjoy the crystal blue ocean and beautiful bays of Madeira Insland.
Book Now