Madeira Whales & Dolphins Watching Boat Tour
Madeira Whales & Dolphins Watching Boat Tour
Availability: Monday, Thursday, Sunday
Availability time: 10.30 – 13.30 / 15.00 – 18.00
Trip Total Time: 3 Hours
Boat: Bonita da Madeira
Madeira Whales & Dolphins Watching Boat Tour
Explore the crystal blue sea of Madeira Island in this Unique special cruise, in which the main goal is to find and enjoy marine life such as dolphins, whales and turtles, offering this way a magical lifetime view.
Price Per Person: 35€ (Children between 5 to 12 years old pay half price; Babies up to 4 years old don't pay a ticket)
Availability: Monday, Thursday, Sunday
Availability time: 10.30 – 13.30 / 15.00 – 18.00
Trip Total Time: 3 Hours
Boat: Bonita da Madeira
Note: Swimming with dolphins is NOT available in this activity.
Where do I need to go when the boat tour starts?
Boarding Address: Marina Nova do Funchal, Cais nº8.
Before boarding, you need to stop by our kiosk to check in and collect your Boarding Pass. We advise you to arrive at least 30 minutes before the scheduled Boat Tour starts.
What are the most common Whales species in Madeira Island?
Sperm Whale (Physeter macrocephalus): Known for their large heads and presence in deep waters, Sperm Whales are frequently spotted in the waters around Madeira.
Short-finned Pilot Whale (Globicephala macrorhynchus): These social and brilliant whales are commonly found in Madeira's coastal areas, often seen swimming in groups.
Bryde's Whale (Balaenoptera brydei): Occasionally seen in the waters around Madeira, Bryde's Whales are known for their streamlined bodies and feeding on fish and plankton.
What are the most common dolphin species on Madeira Island?
Bottlenose Dolphins (Tursiops truncatus): Known for their playful nature and acrobatic displays, they are commonly found in the waters around Madeira. They are often spotted in groups and can be seen leaping and riding the bow waves created by boats.
Atlantic Spotted Dolphin (Stenella frontalis): These dolphins are known for their distinct spotted patterns and are frequently seen in the waters of Madeira. They are social animals and often travel in large groups, sometimes displaying energetic behaviours.
Common Dolphin (Delphinus delphis): As their name suggests, Common Dolphins are frequently encountered in the waters around Madeira. They are known for their high-speed swimming and often ride alongside boats, displaying their agility.
Striped Dolphins (Stenella coeruleoalba): Striped Dolphins can also be found in the waters around Madeira. They are recognized by their distinctive blue and white striped pattern and are known for their energetic swimming and playful behaviour.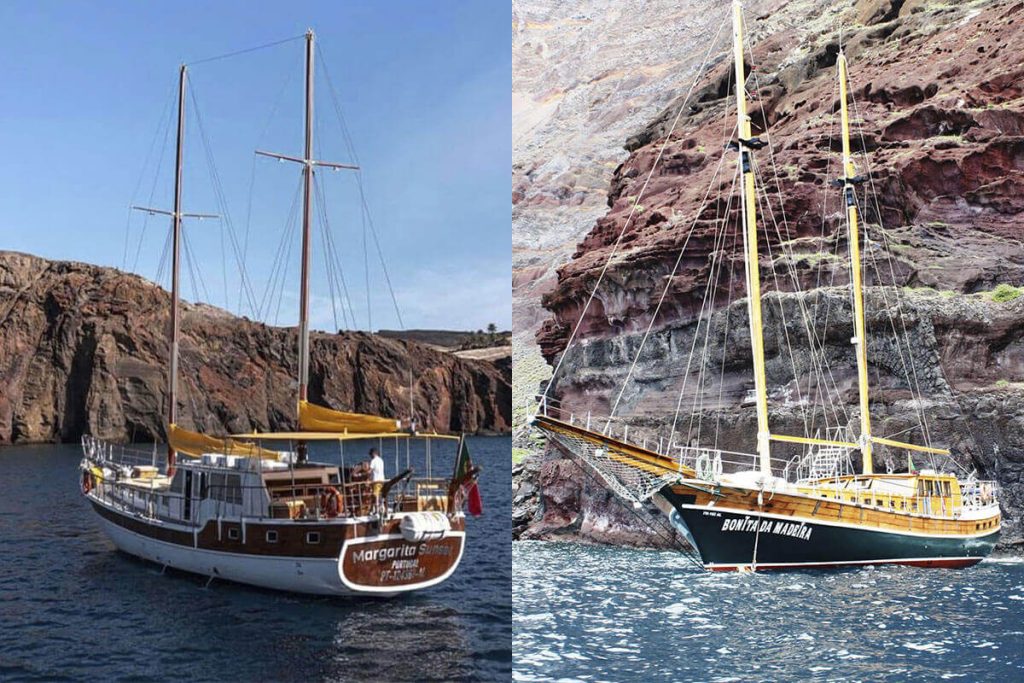 Our Boats
Genuine Wooden Gulet, with an experienced crew.
Bonita da Madeira and Margarita Sunset, genuine wooden schooners, 23 meters long and 99 tons, are equipped by a professional and experienced crew, allowing you to enjoy the crystal blue ocean, beautiful bays and marvellous coast of Madeira and Desertas in comfort and maximum safety.
You might also be interested in...
Boat Tours, Whale & Dolphin Watching and more
Bonita da Madeira
Experience The Madeira Island Ocean Like Never Before
Come discover and enjoy the crystal blue ocean and beautiful bays of Madeira Insland.
Book Now